Baby Stuff I Was Gonna Show You Months Ago
Hey there!  A long, long, long time ago, I planned to how you a week's worth of items I'd made for the baby.  I had things all ready and photographed, made it to Wednesday, and then I just forgot to finish.  We were busy, Toaster was sick, I was pregnant, yadda, yadda, yadda…
Here's one thing: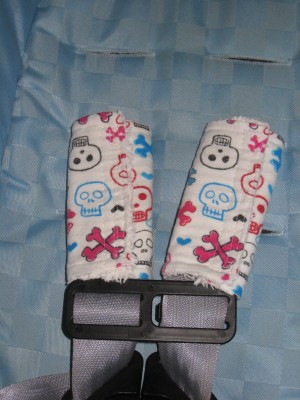 Why spend $10 on completely unnecessary padding for your precious child when you can make completely unnecessary padding for the cost of some scraps from your sewing stash?  Skull and crossbones flannel from Joanns, reverses to cotton chenille.  I imagine they'll be better at soaking up drool than those fancy store-bought ones!
Then we have these little guys: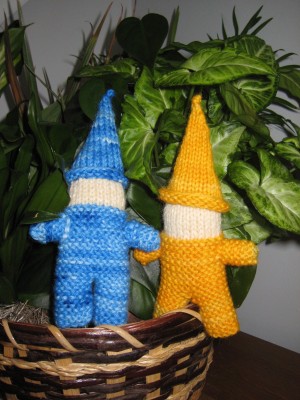 Two gnomes out of a possible five (I haven't knit the rest yet) from a nice little kit from Green Mountain Wee Woolies at Etsy.  While the kit is very nice, I do have one minor quibble: all of the pictures (including the one that came with the kit) show the gnomes wearing cross-body handbags (European carryalls?), yet the pattern does not provide handbag instructions.  Boo!
In other news, baby girl is huge!  At her first pediatrician appointment, she weighed 7 lbs 2 oz.  Twelve days later, she weighed 8 lbs 9 oz!  Also, she had grown almost two inches in height since birth.  Damn, that's crazy.  And it can't feel good to grow that quickly.  Matt went back to work today, and we all missed him tons.  Luckily, it's only two weeks until his company shuts down for Christmas and New Years, when we'll all get to be together again.