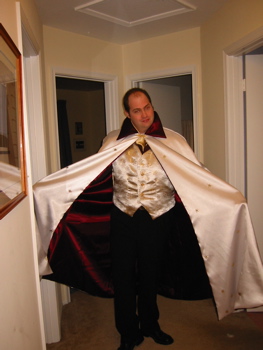 Matt's mom has a tradition of theme holiday parties and this year it was a Las Vegas Christmas! A deal was struck and our brother-in-law agreed to go as Elvis if Matt went as Liberace.
I used a Simplicity pattern for the vest and cape, originally a vampire costume. Those are snowflake-shaped sequins on the front, and there is a large snowflake made of small sequins on the back. The vest buttons are also snowflakes. Did you know that Christmas was Liberace's favorite holiday?
Due to budgetary constraints, this is early Liberace, before he got really into feathers and furs. And the wig that was ordered never arrived. Boo.
The gold ascot exists because I did not finish the lacey jabot. Oh well, he still looked fabulous!
I was the Flamingo Casino, because I needed an excuse to wear a fabulous vintage dress I've had for over two years.
On an unrelated note, I am so excited by the return of the perfume ad! The new Nicole Kidman Chanel No. 5 ad is both fabulous and ridiculous. Another twenty minutes of TV revealed that Britney Spears and Calvin Klein are both in the wierd perfume advert game. Awesome!