About 12 days ago, I had me a baby: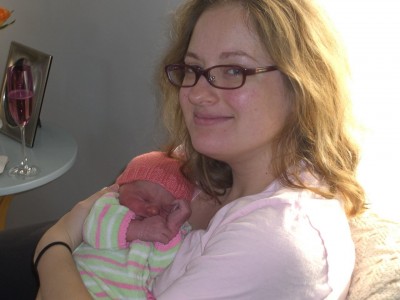 Her name is Ginevra, but we're calling her Ginny most of the time.  She was 7 lbs 6 oz at birth, and has wavy blonde hair.  That's us at home, tired as I don't know what, about seven hours after she was born.  That's a glass of Schramsberg Blanc de Blanc 2002, in case you were wondering.  It was delicious!  Here she is a few days later with her daddy: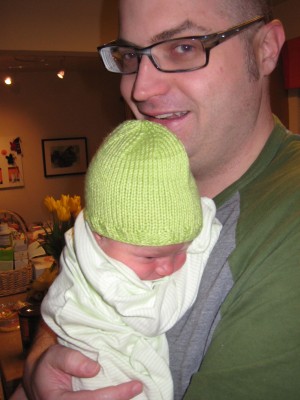 And then a few days after that, we celebrated Thanksgiving: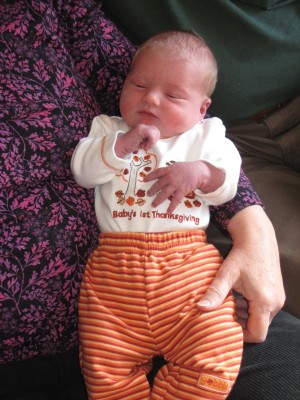 She's now about twelve whole days old, and Matt and I are slowly figuring out this parenting thing.  She's a pretty chill baby, which is great, given that Toaster is such a lunatic.  Nursing is going well, if you ignore the extreme engorgement (which is now over) and the yeast infection (Thrush, which is not over).  No supply or latch issues, at least.
Her birth was spontaneous and unmedicated, like we hoped and planned for, but I did have to push for four hours.  That sucked.  We can all thank my pointy pubic arch, apparently.  In the end, she came out red and healthy and squealing.  She is still healthy, but less red and less squeally.  Instead of red, she's doing that newborn molt thing, and is very flaky.
WordPress has a new photo system that makes it much easier for me to share photos, so that means (I hope) that I'll be posting more frequently… Usually, I avoid posting if I don't have pics, and the gallery system I've been using has been acting up lately.
Okay, so that's all the news for today.  I'm sure I'll be posting again soon, because these photos aren't nearly worthy of Ginny's extreme awesomeness and good looks.  Despite some minor sleep deprivation, we are both entirely smitten!