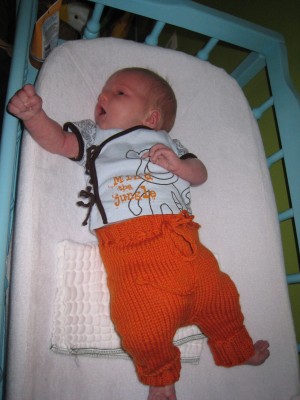 The answer to life, the universe, and everything is NOT 42!  It's wool.
Yesterday, Ginny wore wool as a diaper cover for the first time.  The interweb, and my few cloth-diapering friends assured me that wool makes an effective diaper cover (in the form of soakers and longies).  I trusted enough to knit a pair of each, and to collect them from generous friends and family, but I did not truly believe.  Then Ginny turned out to be a super duper wetter and I was afraid to even try.  But I waited and now, I believe!
My mom knit these longies from a Little Turtle Knits pattern, and Ginny wore them all day yesterday.  Even when her diaper was wet inside them, the pants were dry to the touch on the outside.  For serious!  Wool.  It's the answer.
In other news, yesterday was my 30th birthday.  I'm 30, a wife, a mother, a homeowner… I suppose I'm officially an adult now!  So I celebrated in an adult way, with one spectacular cocktail: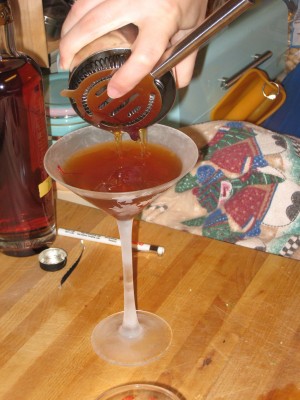 A Manhattan made (by me) with Rittenhouse 21-year-old straight rye whiskey.
My last pre-pregnancy cocktail was a crappy restaurant Manhattan made with Jim Beam.  Ugh, it was gross and I didn't even finish it.  My first post-pregnancy cocktail was this lovely drink, and ohhh, it was divine.  I had some roasted pistachios (50% less salt from Trader Joes) and a glass of water on the side.  Matt went to the ends of the earth (well…all over Baltimore) to get me a bottle of Rittenhouse, and it was worth it!  Thanks, honey!