We had a nice Christmas here.  Ginny was all, "whatever," but she'll appreciate all the toys she got sooner or later.  I finished two more knitted gifts but only have a picture of one: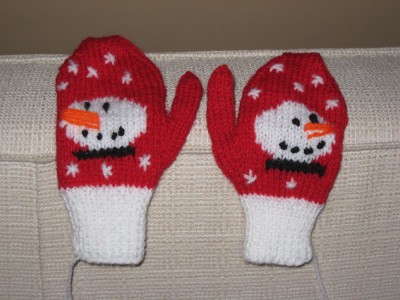 From a Mary Maxim kit (No. 3794N, Snow Mitts for Kids) we have mittens for my nephew William.  My first intarsia (WOO!) and my first 100% acrylic (meh).  The yarn is Mary Maxim Mellowspun, which is okay, but nothing special.  These mittens rock, though.
I also knit a scarf for my Grandmother, but I didn't get a picture.  Instead, I offer you a photo of some of the 16 lb beef rib roast that she bought for dinner… for six people.